Virginia Church Furniture offers to our customers the services of a complete chancel and custom furniture plant. Our craftsmen are capable of creating, duplicating or reproducing any type of custom furniture. Using a wide variety of wood species and years of handcraftsmanship and woodworking experience, we can offer your church a truly unique furniture product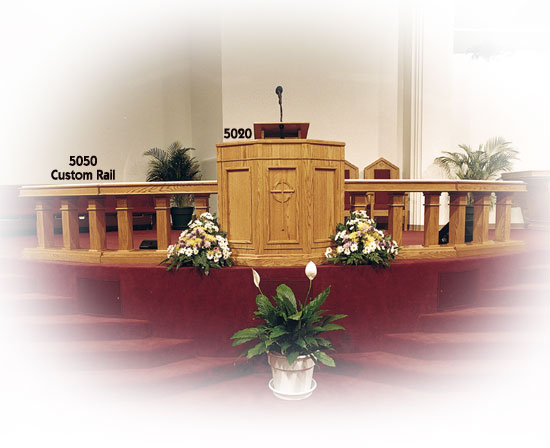 Pulpit
Cat. No. 5020
H-45 W-60 D-24
Communion Table
Cat. No. 5010
H-33 W-84 D-33
Flower Stand
Cat. No. 5030
H-30 W-14 D-14
Chairs
Cat. No.
5001 H-48 W-26 D-22
5002 H-46 W-26 D-22
5003 H-40 W-21 D-20
Communion Rail
Cat. No. 5050
Rails available in any length. Step and cushion optional.
Virginia Church Furniture craftsmen make the finest custom-designed furniture. Your imagination is our only limitation!
Custom Furniture is our Specialty!
Design your furniture to fit your decor!
Our expert chancel department can custom make your designs.