Lighting and Church Stained Glass
Virginia Church Furniture offers fixtures in many styles. Each style has variations to accommodate different ceiling heights and floor configurations within the church building. Metal, wood, and glass types are optional. Requirements for church lighting are usually expressed in watts per square foot. (Generally recommended is 3-5 watts per square foot in the sanctuaries and twice that in the altar area.) This wattage figure gives 15-25 footcandles at the reading plane for most auditoriums.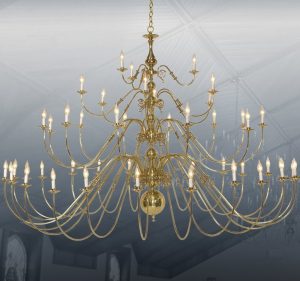 We offer Pendant fixtures, Ceiling fixtures, Wall Sconce fixtures, and Wall Mount fixtures.
Our field representative will be glad to show you our entire lighting program.
We design, build and install all types of church stained glass windows, from the simplest leaded glass to the intricate, hand-painted cathedral designs. We also manufacture faceted or "chunk" glass construction, which lends itself well to modern-style sanctuaries.
Choose from an array of standard church stained glass designs that are adapted to any size or shape window, or work with our design department to create a one-of-a-kind work of art. Our design department is well-versed in religious symbology for all denominations and will work with you to create a church stained glass window appropriate to your particular installation. All windows are custom-made, hand-crafted, with only the finest materials available.
Our field representatives will be glad to show you our entire line of church stained glass.